About Dr. Seltzer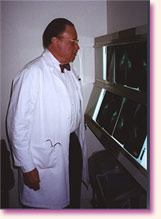 Murray H. Seltzer, M.D. is available for consultations for both health related entities and medical-legal situations requiring the expertise of a breast surgeon.
In the past he has consulted for Ross Laboratories, Prudential Insurance Company, Oppenheimer Corporation, New England Critical Care and Entech.
He has lectured on breast-related medical-legal issues for the American Bar Association, The New York State Bar Association, The New York Law Journal Seminars, The Institute for Continuing Legal Education and the Medical Inter-insurance Exchange. For the past 20 years he has provided expert testimony for breast related medical-legal issues.
Dr. Seltzer's career long interest has been breast disease and in 1987 he elected to completely limit his practice to surgical diseases of the breast. He retired from the active practice of surgery in July, 2008. He has over one hundred scientific publications to his credit and has been listed in the "Top Docs" section of the New Jersey Magazine; "The Best Doctors" section of New York Magazine, Top surgeons in America and in the book entitled "The Best Doctors in America." In 2006 he was given the "Excellence in Caring" Award by the St. Barnabas Out-Patient Centers. He has had numerous radio and television appearances. Dr. Seltzer has performed over 80,000 breast examinations and over 11,000 breast operations.
He is a past-president of the prestigious New York Metropolitan Breast Cancer Group. In addition he holds membership in the Society of Breast Surgeons and the American Society of Breast Disease. Dr. Seltzer previously served as the first Medical Director of the Breast Center at the St. Barnabas Ambulatory Care Center in Livingston, New Jersey.
---
Dr. Seltzer's Curriculum Vitae/Bibliography
To view Dr. Seltzer's curriculum vitae and bibliography, please click on the link below to view or download: Get Acrobat ReaderIf you do not have the Adobe Acrobat Reader software, you can get it for free by clicking here or on the icon at right. If you are not sure if you have this software, try to open one of the PDF files.
Contact Information:
Murray H. Seltzer, M.D.
4001 N. Ocean Blvd Apt. 1006
Boca Raton, Fl 33431
Telephone: 561-997-5779 E-mail: seltzer1961@gmail.com Website: seltzerbreastsurgery.com